Back To The Grind
I don't know what it is that makes me stop writing. But when I look back a few years, I notice a pattern. I see that I've written different blogs, about different things, feeling different ways, seeing from different perspectives. Life is about change, and sometimes we lose that in the pursuit of our own comfort. In the past I've written about writer's block. It's as...
Untitled Note
Sometimes life is like an Untitled Note. Hear me out on this one. Let's think about all the times that you couldn't quite remember the heading, but the filler was golden. The moments in between that carried all the meaning, the meat on the bones, so to speak. That's the beauty of the thing: you can't just explain these moments in words. You can't put a title on...
"I arise in the AM torn between a desire to save the world & a desire to..."
7 Billion And Counting...
Sometimes, when presented with a unique situation, you experience unusual emotional pairings in your life. What I mean is, you may feel at peace, and content with self-identity…yet still a little sad. Or you might be happy and optimistic about the 'big picture,' but still pull an Eeyore with attitude or personality. We allow these feelings to shape how we appear and act. I think...
Ramblings Of A Frustrated Writer
Here it goes again. I feel the urge to write, to get my thoughts down in coherent fashion, yet I'm at a loss for focus. Thoughts consistently barrage me from all directions, but there's no thread…. In the college days, I might attribute this to attention-deficit. Now I know better and am concerned that it's just a lack of inspiration, of material, of things that I can...
Restlessness.
The old feeling, shrouded in apathy, struggles to make itself known. It wants to control, to manipulate, to deceive the inner self. And many times it succeeds. "There are too few hours in the day," says Apathy. "You just don't have time." But it must be fought off. It must face resistance. Or else the day will come when you look back and realize that there WAS time,...
The Departure.
And, as quickly as the moment is here, it's gone again. You are left wondering if it ever came at all. Was it all just a dream? If it was, would you even want to know? This week has sure seemed like one hell of a dream. I feel as if I've been walking in another person's footsteps.  It's been as much of living in the moment as it has been living in the past. But it's...
The Return.
It is a wonderfully odd feeling knowing that you are about to embark on a journey. There is the anxiety and the excitement, all bundled together in one confusing package. There is the desire to make memories that will last a lifetime. I am preparing for a cross-country road trip to return home to Texas. Having been gone almost 5 months, I've noticed many things about myself that I may not...
Spotlight.
Ohhh, I cannot adequately describe the feeling. From the darkness, I step onto the stage. Turning back, I am blinded by the beaming, hot light. Soon I will be sweating….but I won't even notice. There is an unperturbed calm, a barrier between me and everyone out there. The lights cue, and it becomes my time. Time to share, exclaim, be overwhelmed, and bask in the moment. This is the...
Inspiration....Take Two.
I've spent a fair part of the last four or five years wanting to always feel inspired to do great and passionate things. I've met people who have revolutionized the way I view life at every step. I could not say that I understood the development of who I became, or the imperfections in my triumphs, and my failures. But I began to learn to love the chapters of my life's book for...
The Song Of Life
The morning creeps up with the sunrise, but quickly fades from life. As I watch the glaring horizon, the dusk swallows it whole. It is waiting, always lurking. An afternoon of ecstasy, followed by a bitter cup of black tea. That is how I remember the first day.  Nothing more to see, nothing more to do. I must be alone, or perhaps I am with you. The night comes on a little too strong, even for...
Reawakening.
What does it take for one to harness inspiration and turn it into creativity? Is it just passion and desire? How does one overcome stagnation in their creative output? These are questions I'm asking myself lately. I find myself sitting down to write, whether it be a story, a blog entry, or a song….and I wonder why sometimes nothing comes up. It's almost a forced process at...
Winter's Bittersweet Love
As the vibrant colours slowly dissipate and fade away, I am reminded of a time when there was only gray…. The sky, trees, and land all know the same. It's nothing more than conformity, a cruel change of which I am ashamed. But there is hope yet, even as the chilling mist rises from the stillness of the lake. It's as if the land is to say, "we accept our fate, and we will...
"Creation seems to come out of imperfection. It seems to come out of a striving..."
This Is The Blog That Never Ends...
This is one of those times when I'm just going to start writing with nothing in particular to say. I've traditionally believed that those writing sessions don't yield anything productive, but I can think of countless examples of a stroke of creativity when it is least expected. You always have to be alert and ready. I've been thinking about reigniting my passion for a lot...
Change We Can Believe In
I've been spending a lot of time thinking about social change lately. Maybe the catalyst for these thoughts has been the Occupy movement, which to me is part of a new era of social protest. Social media like Twitter and Facebook has changed the way we perceive everything, from news, current events, and social justice to uprisings and revolutions. The 'Arab Spring' has gotten the...
The Journey
The journey isn't the whole adventure; rather, it is part of it. One journey cannot be linked to another, but there is a subtle connection through it all. There is an unexplainable link that binds these together, and makes our individual experiences part of our connected 'whole' being. Part of who we are. It's for this very reason that I cannot feel anything but optimism...
"The unreal is more powerful than the real. Because nothing is as perfect as you..."
Inspiration.
A man walks down a long, empty street as he looks at the shadows reflecting off the tall and desolate buildings. The well-manicured grass seems out of place in this empty industrial avenue.  A sense of helplessness overcomes him; he is the only one left in the world. But what does he do? He keeps walking, hoping to see some sign of the life he vaguely remembers. And there it is. At the end of the...
Turkey, Giblets, & Many Thanks...
Yesterday (the "official" Canadian Thanksgiving) I had the lovely opportunity to meet a lot of new people and try some new things. I helped prepare the turkey for what was sadly my first time ever, but I embraced the challenge and wanted to have some fun with it! I will admit violating a dead turkey (don't get any ideas, I mean removing unpleasantries & stuffing it!) was not...
My Bucket List
That's right folks, I'm giving in to the bucket list. I figure the earlier I start, the better my chances will be of getting these things done. So I'm going to start with something preliminary, more like goals in life, and try to build it from there. JForbes Bucket List: 1) Visit Europe. Specifically England, Scotland, France, Germany, Italy, Austria, and Spain. Might take a...
The Gift Of Life
This morning on my drive in to work, I saw a dead doe on the side of the road. It was really quite sad. I could almost see the last moments of life in that poor little deer's eyes. I thought to myself, how could something so beautiful perish so simply? Without any visible injuries, this doe looked like it had been preserved in some sort of frozen state of being. It had moved past fear, past...
"And after all my plans They melt into the sand Yeah, you will be there on my..."
Growing Up.
When old age shall this generation waste,         Thou shalt remain, in midst of other woe     Than ours, a friend to man, to whom thou say'st, "Beauty is truth, truth beauty," - that is all         Ye know on earth, and all ye need to know. -Keates, Ode on a Grecian Urn Everybody has something to say about getting older. With age comes wisdom, with wisdom comes maturity,...
Hangovers vs. Mondays vs. Change
Okay, I'm going to start blogging regularly again, I am determined. It is a very relaxing way to wind down from some stress. Or from anything really. I feel as if my well of creative juices has dried up; it's like a goddamn famine in my head. But that needs to change, I need to force that change. Man oh man, have I sure spent a lot of time talking about change. It reminds me of the...
"When you're dreaming with a broken heart The waking up is the hardest..."
Crossroads
I guess it's a bit ironic that as of late I have only been turning to writing when I am overwhelmed. When I am up against the wall and wondering where to turn. It seems that I have been using writing as a measure of last resort, the one step in between rationality and losing my grip on reality. So what causes me to turn to this? I think it has something to do with lack of confidence in...
"My friends, love is better than anger. Hope is better than fear. Optimism is..."
Hope →
This is the kind of sentiment that made me interested in politics in the first place….that interest may have faded, but it's good to see it echoed in the voices of leaders out in the world, here and abroad. It's sad to see someone so passionate go.
A New Adventure....
I haven't written my personal thoughts on tumblr in a long time, if ever. But writing is good for my soul, so I thought I'd give it a try. A very close friend recommended writing down some things about my experiences in the past couple of weeks, so here goes… I'll be the first to readily admit that it is not easy adjusting to life in a new place, let alone a new country....
"I believe in God, but not as one thing, not as an old man in the sky. I believe..."
The Lake
"I went to the woods because I wished to live deliberately, to front only the essential facts of life, and see if I could not learn what it had to teach, and not, when I came to die, discover that I had not lived." -Henry David Thoreau                                                            The Lake          Some people will say that truth is relative, or subjective, or...
The Nature of Fear
This is a passage from Life of Pi by Yann Martel. I would highly recommend this book for anyone with an artistic and open-minded view of life. "I must say a word about fear. It is life's only true opponent. Only fear can defeat life. It is a clever, treacherous adversary, how well I know. It has no decency, respects no law or convention, shows no mercy. It goes for your weakest...
Are We All Insecure In Some Way?
When someone reads a piece written on the topic of appearance, they might be inclined to roll their eyes. Even more so if the author is a heterosexual 22-year old male. So I'll set everyone straight before they continue reading.. I, Jonathan Forbes, am about to give my opinion on some of the insecurities of my own appearance. Read on at your own risk. I woke up this morning, and after the...
Is History Being Made? Check Your Facebook.
I think it was incredibly interesting to see the reaction to bin Laden's death on social networking sites. Just a few years ago, we would have inevitably found out this news on our preferred online news sites: CNN, BBC, and Fox News (if you prefer the ultra-bias approach). But now we see these historical moments being relayed to us through facebook and twitter. The minute I saw the...
"I may be drunk, Miss, but in the morning I will be sober and you will still be..."
Self-Evaluate
Many of us are quite critical of ourselves at time. I am no exception. I find this especially with my music performances. I usually play about once a week, and last night I was playing with my roommate at the Garage. I've found that my performance, especially my singing, is prone to intense criticism and abuse by ONE individual alone: myself. Why are we so harsh on ourselves? Maybe it has...
A Most Wonderful Dream...
It's always hard to recall the exact details of a good dream, but I felt like trying. It was THAT cool to me. I was sitting around, in some group setting, hanging out and jamming with Paul McCartney and Ringo Starr (contemporary versions of the guys). We were just goofing off with a few riffs, somebody was passing around the cigarettes that might not have been cigarettes, and we were...
Play Whatever Card You Would Like, But Don't Be A...
http://www.cnn.com/2011/OPINION/04/19/byron.trump.president/index.html?hpt=C2 Read that article if you are so willing. It is an opinion piece, just like the one I am currently writing. It is always very important to keep that in mind while reading someone's thoughts. I'm commenting on certain things that I'll openly admit I don't know every last fact about. Few people...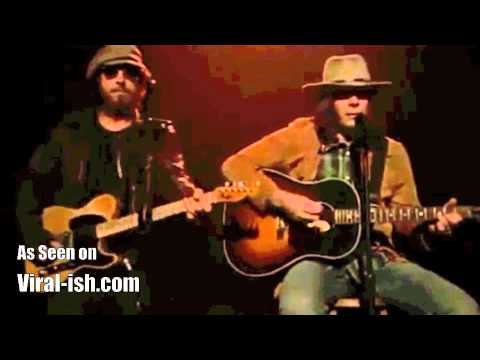 False Advertising?
Not to jump right into controversial posts, but I have something to say. I was walking on campus today and was handed a card with a message promoting Christianity. I have no problem with any religion, I myself was raised Christian, but I do have a problem with the way a lot of people "prescribe" their religions as an instant fix to all your worldly problems. I have found this to be...